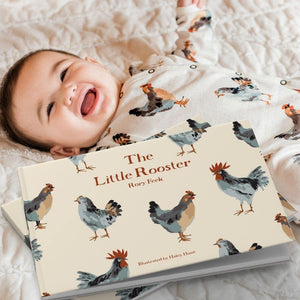 Grab your favorite blanket, snuggle with your little one, and let The Little Rooster whisk you away to a miraculous day on the farm.
Whimsical, watercolor illustrations by Haley Hunt bring life and wonder to every page. From that first cock-a-doodle-do, this timeless and heartfelt ode by Rory Feek will leave the young and the young-at-heart pondering what makes you, uniquely you.
The collection of children's books by Milkbarn showcases a first-ever series of coordinating apparel prints and hardback book illustrations. Our cover artwork of The Little Rooster matches our one-of-a-kind Chicken print seen in all of Milkbarn's baby apparel and treasures.