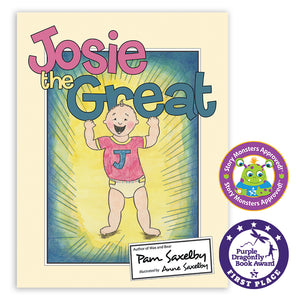 So many things are changing for Max and Bear. They've moved into a new house in a new neighborhood, and now ... a new baby? Max's parents keep talking about someone named Josie, but who is that?
With his trusty friend Bear by his side, Max navigates the changes in his life and wonders what it all means. Written by Pam Saxelby and illustrated by her daughter, Anne Saxelby, Josie the Great explores how young children come to understand their ever-changing world. With imagination and humor, this fun story is a look at bringing a new baby into the family from her sibling's perspective.
Josie the Great is a sequel to the author's Max and Bear. Young readers and those who have yet to learn to read will enjoy the further adventures of these two characters.