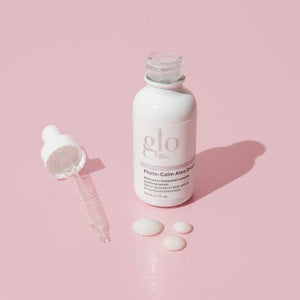 Formerly Corrective Soothing Serum. Revitalize and strengthen skin with this calming serum. Powered by skin-nurturing ingredients including aloe vera and olive fruit and sunflower seed oils, it softens and soothes, enhancing moisture for a reinvigorated radiance.
Product Features:
Soothe and strengthen skin with this nutrient-rich, nourishing Phyto-Calm Aloe Drops serum. Powered by aloe vera, a cooling botanical extract that offers calming benefits to reactive or sensitive skin, plus complexion-comforting oils including olive fruit and sunflower seed help soften and moisturize skin. Skin's moisture barrier function is strengthened for boosted suppleness and renewed radiance.

Suitable for all skin types — especially dry or sensitive.
Key Benefits:
Soothing: Calming anti-inflammatories and antioxidants promote softer, soothed skin.
Strengthening: Botanical ingredients help repair and restore skin's moisture barrier.
Protecting: Antioxidants soothe skin sensitivities and protect against signs of premature aging.