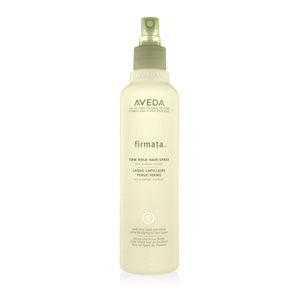 firmata
™
firm hold hair spray
Firmest hold non-aerosol hair spray, provides extra-strong style control and shine.
• great style memory


TO USE:
Apply to dry hair. Hold bottle 10–12 inches (25–30cm) from hair and pump to dispense. If clogging occurs, run nozzle under hot water.
TIPS
•For specfic hold, or to control a hard-to-maintain area, lightly mist onto slightly damp hair and blow-dry the section of hair with a round brush.
•For soft hold that's brushable, hold the bottle as far away from your hair as possible and lightly mist.

Aveda is a cruelty-free brand. We do not conduct animal testing and never ask others to do so on our behalf.