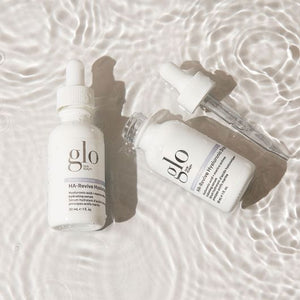 Infused with multi-weight hyaluronic acids and marine actives, HA-Revive Hyaluronic Drops serum reinvigorates and refreshes with a quenching boost of dual level hydration. Instantly soothing surface-level dehydration and dullness, the fast-absorbing formulation dives deeper to replenish skin's moisture reserves, smoothing the appearance of fine lines and wrinkles. Skin feels supple, smoothed, and perfectly plumped.
Suitable for all skin types - especially with aging/age prevention concerns.
Key Benefits:
Hydrating: Hyaluronic acid retains up to 1,000 times its weight in water, helping maintain moisture barrier and ramp up hydration levels, without clogging pores.
Plumping: Delivering deeper hydration, this fast-absorbing formulation helps reduce the appearance of fine lines and wrinkles, for a more youthful, dewy effect.
Strengthening: Plant stem cell technology infused with nourishing marine actives provide a lifting and tightening boost, improving skin's elasticity and resilience.
Key Ingredients:
HA Elixir: A fast-absorbing, small and large molecule hyaluronic acid mix, delivers a dual action surge of saturation, conditioning and plumping the complexion.
Sweet Iris (Plant Stem Cell): Smooths and softens, helping bind moisture to the skin and keep it there.
Marine Actives (Plankton Extract): Retextures fine lines and wrinkles, firming skin.