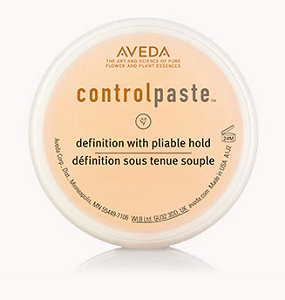 Loose and piece-y, or stand-up and messy—control paste™ lets you create texture with a medium, pliable hold for high-textured styles that are smooth with a matte finish.
• dry hair styling
• pliable, medium hold
• all hair types
TO USE:
Emulsify in your hand and work through dry hair with fingertips. Apply more product as desired.
TIPS
• For a dramatic, piece-y look, emulsify control paste™ using only your fingertips. Take individual pieces/sections of hair in your hand and slide your fingers directly down the hair.
•Apply to damp or dry hair prior to braiding or pony-tails to keep stray hairs together and maintain a smooth, controlled style.
•If the hair was styled/finished with control paste™
Aveda's own pure-fume™ aroma with certified organic ylang ylang, clove, clary sage and other pure flower and plant essences.


Aveda is a cruelty-free brand. We do not conduct animal testing and never ask others to do so on our behalf.