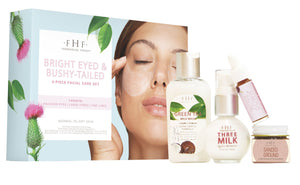 You'll obsess over your new, ultra-smooth facial surface, sleep in super antioxidant peace, and love your firm, nourished complexion that continuously looks better and better naked.

This starter set includes:

2 oz. Green Tea Milk Wash Cleanser

1 oz. Three Milk Ageless Peptide Moisturizer

0.125 oz. Wine Down® Overnight Super Antioxidant Serum*
*selected by InStyle Magazine as one of the best new products for serious skin repair
0.25 oz. Sanded Ground® Mud Exfoliation Mask
*selected by Southern Living Magazine as a "New Beauty Classic"
Your purchase helps rescue and care for forgotten, neglected and abused farm animals that live at the FHF Sanctuary.